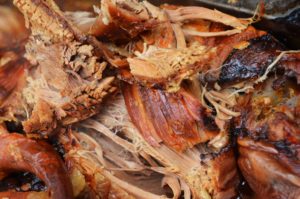 Are you looking for some creative catering for one of Croydon's many cultural events or perhaps a contemporary menu for a special occasion or private party? Whatever your catering needs are in Croydon, the Hog Roast Croydon team are equipped to provide optimum catering solutions for any event. We offer the finest hog roasts in the area along with bespoke catering packages that are ideal for any large or small event in any type of venue.
Our unsurpassable slow roasted pork is so good because we only ever use ethically reared meat, which is then expertly cooked by our skilled chefs until it is melting in the mouth and oozing with its own natural flavour and quality. Our classic hog roast sandwiches served with our homemade apple sauce and moreish crunchy crackling are ideal for feeding a lot of people at a public event, allowing you to offer your guests both quality and quantity without having to go overboard with your catering budget.
The Best Hog Roast's In Croydon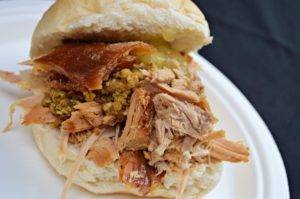 It isn't just the quality of our hog roasts that makes us the ideal catering option for such a wide array of events. Here at Hog Roast Croydon, we also ensure that our food can be enjoyed by everyone regardless of individual preferences or dietary considerations, which is why we offer a vast choice of different dishes including alternative slow roasted meats, as well as vegetarian, vegan and gluten-free options. Our menus also differ in style depending on whether you want food for a relaxed party or a more formal celebration such as your wedding reception. We offer appealing buffets and sophisticated 3 course meals for any occasion, and your chosen menu can be tailored to meet your requirements to the letter. We are also committed to preparing every element of our menus from scratch on-site in any indoor or outdoor location, and we exclusively use high quality locally sourced produce in all of our dishes.
If you want an unforgettable hog roast experience and a varied freshly made menu, the Hog Roast Croydon team are able to tick all of the boxes when it comes to any kind of event catering in Croydon.