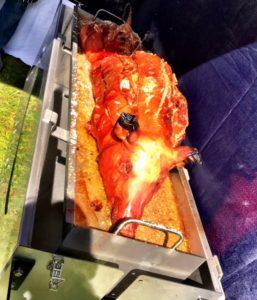 If you would like a taste of the countryside in an urban environment, not to mention the finest slow roasted pork in the area, hiring the Hog Roast Orpington team to cater for your event is the answer. We specialise in providing delicious hog roasts and varied modern menus for a wide range of events in and around Orpington. Whilst we are a great option for large outdoor events, our adaptable catering styles allows us to cook with just as much success in smaller indoor venues. Our streamlined yet very efficient cooking equipment can be used in any setting, including function rooms, your workplace and even your own home. This means that we can provide fabulous hog roast feasts for any occasion and for any number of guests. We always prepare our meat on-site, creating an interactive dining experience for our guests as everyone can watch us in action and savour the aroma of our irresistible ethically reared pork after it has been roasting slowly for several hours. Whilst the meat is cooking, we will also prepare the rest of the dishes on your chosen menu from scratch at your venue regardless of the location or the number of diners. We only use the best locally sourced produce in all of our dishes and ensure you will be able to sample them at their very best by freshly preparing everything on the day of your event.
Diverse Menus For All Tastes With Hog Roast Orpington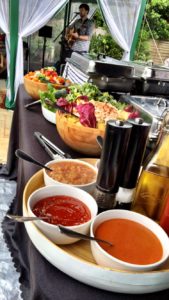 Hog Roast Orpington's menus also demonstrate our diversity when it comes to event catering. As well as being able to offer you the best hog roast experience in the area, we are able to provide a varied range of different dishes that will accommodate varying tastes and dietary needs. Our buffet and more formal 3 course meal menus all consist of a selection of different slow roasted meats in addition to tasty vegetarian and vegan alternatives. The scope of our menus makes us a great catering choice for special occasions, large public events, smaller private parties, corporate entertaining and everything in between.
The Hog Roast Orpington team are on hand to meet all of your event catering needs for any occasion in Orpington thanks to our superior slow roasted pork and inspiring menus that will please everyone.