No that isn't a typo- last weekend we were asked to provide the catering at a lovely outdoor wedding reception for a bride and groom who are both vegetarian! They chose Hog Roast White City because of our growing reputation as a well-rounded catering option for weddings, with the ability to provide not only magnificent hog roasts, but also a delightful range of other dishes that suits all tastes and diets! Whilst hog roasts are what we are best known for, we realise it isn't everyone's cup of tea, and we try to be as accommodating as possible when devising menus that have something for everyone.
Craig and Michelle faced the typical dilemma of all couples when choosing their wedding menu- finding a way to please everyone, especially with the added complication for them not being meat-eaters and wanting to enjoy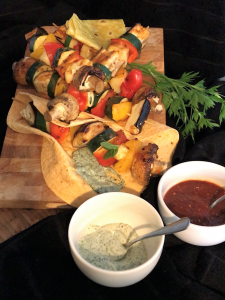 some excellent vegetarian food, whilst also pleasing the carnivores in their life! The answer came with one of Hog Roast White City's bespoke wedding packages which provided everything they needed and more! Craig and Michelle were thrilled with the options available to them and went for the full works- a 3-course sit down meal with welcome canapes! They chose a tempting selection of mini quiches, and wild mushroom bouchees, and for the meat-eaters, gourmet sausages and Thai skewers. To please their guests even more, they asked us to provide a traditional hog roast for the main course served with all the trimmings, alongside a very appealing vegetarian option for themselves!
The happy couple were even happier when they arrived at the venue and saw the feast that awaited them! After attending so many weddings in the past as guests, where the vegetarian options always seemed like an afterthought, Hog Roast White City received high praise indeed with the way we put just as much care and attention into these dishes, as the meat main course! Under the guidance of our expert event planner, Craig and Michelle had chosen the perfect menu for their big day, with their vegetarian food sharing the limelight with our hog roast! With the bride and groom incredibly happy with the food, and the meat eaters enjoying every bit of their dishes as well, their wedding meal was everything they could have hoped for thanks to the Hog Roast White City team!