The innovative concepts and creativity that our patrons regularly display never ceases to amaze us, and last weekend, Hog Roast Benhilton was once again reminded of how phenomenal our customers and clients can be when we attended a fantastic event that also helped to save lives!
Because it's not every day that our passion for serving great food to the community overlaps with an opportunity to raise awareness and support for such a vital cause, our team couldn't say yes fast enough when Louise called to ask for our assistance at a mobile blood drive she had spent the last few months organizing. Since having a hearty snack of preferably iron-rich foods like meat and leafy greens is extremely important before donating blood, our presence at the event was paramount. And given the nature of the occasion, Louise had opted for one of our simplest menus, the Classic Hog Roast, which is traditionally served in roll form, making it easy for us to cater at large and busy events such as this one.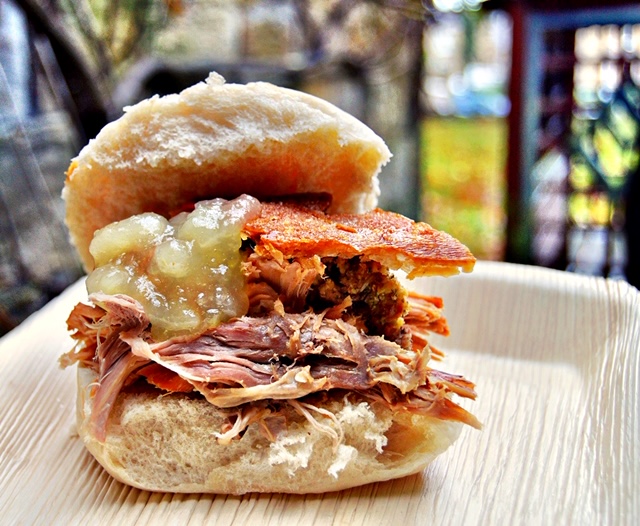 With 250+ people expected to appear all through the day, Hog Roast Benhilton began their preparations bright and early that morning. Under the cover of our gazebo, the team slowly cooked a monster-size pig on the rotisserie until it was golden brown with blackened spots in all the right places. As the rain battered down overhead, they carved off the crackling and pulled pork, piling both into chafing dishes alongside a tray of sage and onion stuffing, and adding the finishing touches, a basket that overflowed with mixed rolls was towered high on the serving table, alongside our gourmet creamy coleslaw, a bowl of applesauce and a gorgeous green salad.
As people began to arrive, Hog Roast Benhilton began serving the steaming hot rolls to everyone who wanted one, and for those veggies and vegans who showed up, the crew had prepared some of our famous pulled bbq jackfruit buns with vegan coleslaw. After which, people rolled up their sleeves before enjoying the family-friendly events that Louise had also arranged.
Despite the rain, the day was a huge success, and thanks to Louise, they were able to make a huge difference!