Hog Roast Brixton has been on the hog and spit roasting scene for a long time now and we pride ourselves on great food and great service to boot. If you haven't yet had the pleasure of a quality animal or bird cooked by us from scratch, you may not know that we actually offer so much more if needed too, and that includes dietary options and alternatives due to personal taste as well. If you fancy our amazing pigs in buns but need a vegetarian option too, we can add our popular veggie kebabs to your menu, or something else like a veggie burger, stuffed mushrooms or peppers or a mozzarella quiche. You may need a vegan option instead or as well as, or perhaps a gluten-free or dairy-free dish, and we have all sorts up our sleeve, as we want all of our customers and their guests to be able to enjoy our homemade delights.
When Bill called us to book our Hog Roast Brixton catering services for a small party at his home, it was to celebrate his wife June's birthday. Having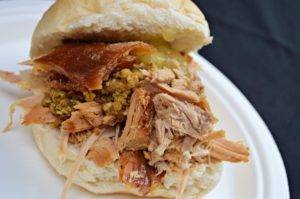 helped devour one of our hog roasts in the summer for his own birthday, Bill knew that his wife would love to have one cooked for her 65th too, and for us to make pigs in buns for the couple and their guests like the last time too. Our hog roast rolls are famous in these parts and further afield, as we prepare with care, cook the meat for several hours while watching over it and serve the pork and crackling in soft, floury bread rolls and wraps, top with our homemade duo of apple sauce and sage and onion stuffing, and then hand over to you to add a condiment if preferred or just to munch on as is. We would also be providing gluten-free bread rolls for one of the guests, who would be able to eat our pigs in buns too because of this.
Hog Roast Brixton catered June's birthday on a wet and windy weekend day recently but the weather didn't deter anyone from having a lovely time or from enjoying our sumptuous hog roast rolls until the hog itself was completely stripped clean.