After hearing several delightful reviews about Hog Roast Oxted and their services, I decided to give them a call after booking a play area and hall for my little boy's birthday. Now I knew that all the children invited needed parents there and I also asked a few of my family to attend to join in with the celebrations, this meant that I had around 60 guests coming. I had never hired a caterer before as my wife's buffets did the job for our previous small events however this time, we wanted a stress-free day with no cooking.
I gave Hog Roast Oxted a call roughly a month prior to the event and their team were most helpful. They explained the menu options and offered me an attractive price to feed my whole party. I booked them in an instance and arranged a time for them to set up.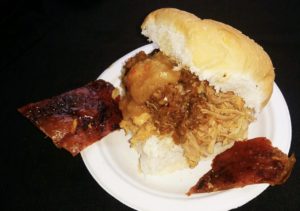 As the day arrived, a team of two gentlemen turned up dressed smart and clean, along with a magnificent looking machine. I greeted them and gave them an area to set up. I couldn't help but check in on how they were doing as the rich, authentic smells from their cooking was filling the whole room. Even my 7-year-old son commented on how scrumptious it all looked. My wife and I were delighted to introduce the Hog Roast Oxted team to our guests as we queued up. Soon enough, the 60 empty plates that we held were piled with delicious, tender slices of hog, neatly folded in a soft bread roll, accompanied by salad and some insanely tasty crackling. The children sat around their own tables and gobbled up the food from Hog Roast Oxted's team. The chef was so talented and made more than enough for us all to go back for seconds. Even the two vegetarians of the group had an option of veggie skewers and potatoes to devour.
As we all finished eating and the children began playing, the two men from Hog Roast Oxted tidied up their work stations and we had nothing to worry about. They really made it a tasty and relaxed day.