It was a Friday night at Harringay's social club and a room had been hired to hold the 18th birthday party for Tom. Family from different parts of the UK had been invited to celebrate with Tom. It was only on special occasions like this that the whole family got together. The local b&b had been booked for the night for family who had travelled far. Tom had also invited lots of friends, some of which had been friends with Tom from junior school so there was friends from past and present. It was a big decision when deciding on the catering to please everyone but the decision was made to hire us at Hog Roast Harringay!
DJ Bob had been booked for the disco and he also did karaoke which was an added bonus for Tom's dad who liked to sing songs from 60s and 70s. The room had been decorated with banners and balloons. Tom's older sister Julie had lots of photos blown up to poster size of when Tom was a baby and hung them on the walls for everyone to see much to Tom's dismay. Tom's gran was telling all his friends what a beautiful baby he was while Tom sat there embarrassed and red faced.
The DJ played all Tom's favourite songs and it was time for some karaoke before the food was served. Dad was the first up to help break the ice singing a great rendition of Tom Jones song Green Green Grass Of Home. It was a great choice as everyone who knew it joined in. Then came the cowboy songs and this was when everyone knew it was time for somebody else to have ago. People kept getting up and singing along to a wide variety of songs.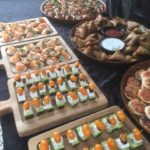 Serving time arrived for the buffet and Hog Roast Harringay had been asked to prepare a spread that was suitable for an 18th birthday party. We were asked to do a variety of sandwiches with a selection of mini quiches and a choice from our Indian selection. A variety of fresh salads were also prepared to accompany the buffet. A fresh seasonal fruit salad and chocolate profiteroles loaded with fresh cream were chosen as a dessert. All of which went down a treat with the guests!