Sunday may seem like the day of rest for most people but not for us at Hog Roast Beckenham, it is in fact one of our busiest days of the week packed with Weddings, Christenings, Birthday Parties and even some Garden Parties (yes even still at this time of year).
Last Sunday we were heading out to Beckenham to cater for a double christening. Amy and Lauren had been best friends since they stated high school and their parents said they were inseparable, and strangely enough they became pregnant at a similar time, only 2 months between them. They did say it wasn't planned either! With huge plans for their two children to grow up together and have a similar relationship that they have Amy and Lauren decided on a double christening for their little girls.
The reception was to be held at the town hall and with a serve time of 1.30pm we had arrived in the morning to ensure all the preparation was done fresh on site and that the Hog Roast Beckenham would be cooked perfectly on time. The guests were leaving the church at 12.30pm and with a short drive it would be roughly 12.45 when most guests would arrive, Amy and Lauren wanted to make sure all of the guests had chance to arrive, find a table and collect a drink before the food was to be served.
Amy and Lauren had plenty of photo opportunities with their girls in the stunning dresses as the guests arrived, with a professional photographer at the reception we even had a few photos ourselves!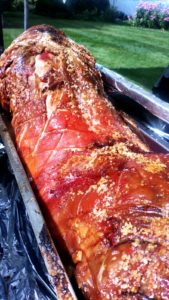 The menu choice was a traditional and simple handheld pig sandwich that they knew would please all of the guests. They also chose to have some sausages so the kids could make hot dogs which is always a popular choice and went down very well.
We were cooking our pig outside to not take up too much space in the room and brought the pig in at 1.20pm ready to start carving for the guests, who had already formed a line! We had some very hungry guests and most even came back for seconds as we had plenty to go around and still some left over as Amy and Lauren planned to take that home with them. Pig rolls for a few days for those two families but we were very pleased the food was enjoyed by all!