Hog Roast Sudbury would like to thank all the people and businesses who have recently booked an event with them for over the summer. After having a rubbish last year because of the pandemic, it is lovely to see that so many people want to use their services again and the catering manager at Hog Roast Sudbury  and all the team are looking forward to it to getting back out there. Providing fantastic food and wonderful service is more of a hobby for the team as they are so passionate about making delicious spreads and delivering enthusiastic and professional service for you and your guests.
Hog Roast Sudbury has all sorts of menus booking in, from their classic hog roast to the bigger wedding menus and a particular favourite is their new Alfresco menu.
Have you got anything to celebrate over the summer? Considering the year we've had; a family reunion is a celebration in itself! Why not browse through the many menus and book now to avoid disappointment!
Hog Roast Sudbury has a variety of menus to choose from, if you want something wonderful yet simple, try our classic hog or spit roasted pig. It comes with a selection of bread rolls, wraps, and sauces. You are guaranteed succulent meat, scrumptious stuffing, and crunchy crackling!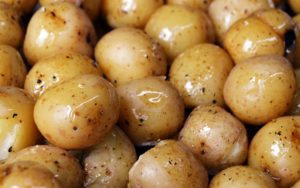 If you want something of a novelty menu, something different but with a great range and super delicious, then opt for the Southern Slow Roast. It entails super tender and juicy meats (beef, pork, lamb, chicken, or spareribs) all marinated in Southern rubs and sauces before being slowly roasted on low heat, creating a flavourful melt in the mouth consistency. If the meats don't excite you enough then the range of side dishes will! Indulge in comforting and creamy Mac and cheese, corns in a blanket of herbed butter, sweet potato fries, Cajun seasoned wedges, tasty potato salad, halloumi skewers or the fresh salads, Greek, coleslaw or mixed.
The BBQ menu is particularly a meat feast with gourmet butcher's burgers and sausages as well as marinated chicken kebabs and chunky and flavoursome spareribs. To make it a proper meal, the menu includes chips, coleslaw, and Greek salad. A super scrumptious summer menu.
What takes your fancy?