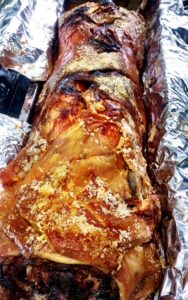 With lockdown coming to a definitive end in the near future, Hog Roast Woodford has been receiving many calls and emails from groups interested in celebrating their reclaimed freedoms with one of our super tasty hog roasts. But as well as calling in our troops to handle the catering in person, we've also found that many individuals have been keen to do it themselves, which has resulted in a huge spike in demand for our rental service. Yes, that's right; our machines are available for hire and purchase!
Now, we know this might come as a huge surprise since most chefs are very secretive about their methods, but here at Hog Roast Woodford, we love nothing more than getting other people engrossed in the traditional cooking method. And so, for us, sharing our secret to how we manage to create stunning hog roasts every time only further ensures the longevity of this fantastic group dining option.
What's more, we've made it really easy to learn how to spit-roast not just pigs but all kinds of meats, with our lightweight, portable and industrial-strength cooking devices, which even beginners will be able to master in no time. These machines are manufactured right here in our very own UK factory and they have been sold all over the world to very satisfied parties for years.
So, trust us when we say that by the time we're done with you, you'll be able to give even our most professional chefs a run for their money! Okay, so maybe that was a slight exaggeration, but you get the point: we make spit-roasting accessible for everyone – no matter what your skill level is! We can also kit you out with some awesome accessories and add-ons for your chosen machine, which are not only designed to make the preparation and cooking process as smooth as butter but these handy tools will also target your unique needs.
For a more detailed look at what we can offer you, shop our full range of machines on the Hog Roast Woodford website today, or contact our customer service team for more information!