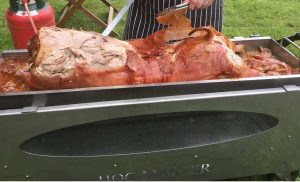 If you are thinking about starting your own franchise with Hog Roast Chorleywood, then you are likely to have many questions about what we can offer to you and why you should choose us to work alongside us. Choosing to start a franchise is an important decision, so we are on hand to offer as much help and advice as you may need. Here are some of Hog Roast Chorleywood's top tips for running your franchise…
1. Passion is the driving factor
When starting a franchise, passion is really all you need. While catering experience may come in handy, it is far more important to be passionate about good food- especially since we provide a complete training program as part of your package. This training prepares you for anything and is the perfect way to step up your existing catering and cooking skills. The ideal franchise candidate should be passionate and excited to cater for events of all shapes and sizes!
2. Do your research
Before you make the decision to start a franchise, it is vital that you have done all the necessary research. This should include looking through our information booklets and our website and asking any questions that you may have about this opportunity. It may also be useful to research the benefits of starting a franchise rather than starting your own business, to make sure that this is the route you want to take.
3. Independence is key
Having a franchise gives you the perfect amount of freedom. You get all of the benefits of being your own boss, while still having ongoing support and advice should you need it. As a result, you can choose when and how often your work- while also knowing that you can always contact Hog Roast Chorleywood if any problems arise down the line.
If you are thinking about starting a Hog Roast Chorleywood franchise- what's stopping you? If you have any more queries or questions, feel free to get in touch with our team today to find out more information. We hope to hear from you soon!