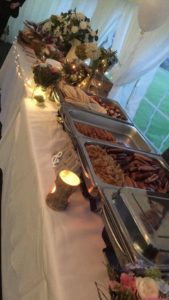 Christmas is nearly upon us and we are super excited and the reason being because we are super busy at Hog Roast Mitcham! We love being busy this time of year and hog roasting is becoming a firm favourite at Christmas time. We were catering for another Christmas party at the weekend and it was for the local cricket club. We arrived mid morning as we were serving at teatime and we had lots of room to cater from in their huge club, catering for 150 guests with our hog roast Mitcham with turkey being the meat of the day.
We placed rows of turkeys on the machine and within minutes they were cooking. a lot of people think that turkey and pork are dry meats but this is not the case when cooked on our hog roasting machines. Our machines retain the goodness and our meats are never dry. We then chopped some potatoes in to cubes and tossed them in oil and covered them in herbs and spices these little spicy diced potatoes are very tasty and have a lovely flavour and guests request them time and time again. We made some vegetable skewers we placed a slice of red pepper, mushroom, tomato, onion and courgette which are placed onto cook and take very little time at all to cook but taste amazing and perfect with this cold weather as an alternative to salad. We are famous for our dips and sauces and we made a good selection a special cranberry dip to accompany the turkey along with a garlic and herb dip and a honey dips all go well with the meat and have a wonderful flavour.
Then on time the guests arrived and were more than ready to eat the hog roast Mitcham, we removed the moist turkeys and the meat just fell of the bone as the guests ate the meat they were telling us how it just melted in the mouth and all said they had never ever tasted turkey like it. The guests enjoyed the rest of the food and kept coming back for more and there is nothing better we like to see than guests coming back for more.