Hog Roast Swanley provides a sophisticated-styled dining experience. It starts with canapé appetisers being served while your guests arrive. You will get the choice of five options so that you can choose a medley so there is something for everyone. For any vegetarian guests opt for the mini pizza's, mini quiches and Indian selection. The Indian selection is enjoyed by all guests as they indulge in vegetable samosas, pakoras and onion bhaji. Hog Roast Swanley would recommend the mini fish and chips, smoked salmon and chicken satay sticks as these especially go down well with guests.
Once your guests are seated, a starter will be served to table. Maybe try simplistic but incredibly tasty homemade soup served with a crusty roll or the Caprese-inspired tomato and beetroot starter with buffalo mozzarella. Have a browse through the menu and take your pick from scrumptious choices.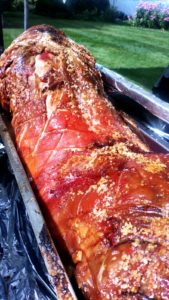 Hog Roast Swanley's main course is a feast! Choose two meats; will you opt for the whole roasted pig, the spit roasted spring whole lamb, rotisserie chickens, Sirloin beef or free-range turkey? Whichever decision you make you will be in for a delightful treat! All succulent, flavourful and indulgent. The meat is then accompanied by either three freshly prepared salads or seasonal vegetables. Choose from Italian tomato and buffalo mozzarella with fresh basil leaves, crunchy homemade coleslaw, seasonal leaves mixed salad or a classic Caesar. To complete the meal, a potato option is also served. Choose from classy Dauphinoise potatoes, tasty roasted new potatoes infused with garlic and rosemary or buttered soft new potatoes with a sprinkle of fresh chives.
The guests will then choose from two puddings both served with cream. There are some chocolate delights, zesty and fruity options and dome light and fluffy treats. Two desserts are served so that everyone will get something they will enjoy.
To complete the experience tea and coffee will be served with a chocolate mint as an extra treat.
A vegetarian and vegan option will be supplied through the menu and everything apart from the appetisers will be served on real crockery.