This year has been challenging for all types of events, for both venues, clients, organisers and other third party elements. That is why Hog Roast Croydon were delighted to be hired by the local Lavender Field management company to cater for their one off summer event. Ordinarily the Lavender Field would have been open to the paying public for two weeks at the end of July, but due to COVID-19 this was unable to happen. But for one beautiful evening they allowed an intimate party of 20 paying guests to enjoy the picturesque field, along with refreshment and catering by the Hog Roast Croydon team.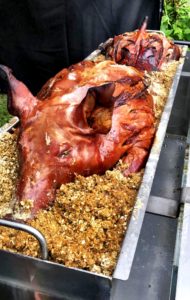 The clients worked with the booking team at Hog Roast Croydon to put together a menu that was fit to delight all the guests, the clients wanted the buffet to have something for everyone, including vegetarian and vegan options. That is exactly what the team delivered; it was a diverse and scrumptious feast for the 20 lucky guests.
Being an open-air venue there was plenty of space for all the catering equipment and serving tables, meaning that there was absolutely no issue with observing social distancing measures! There was even a separate hand sanitising station set up a few feet away from the buffet table, so that the guests could clean their hands before handling and eating the food. All of the dishes were made fresh on site in the hours between the Catering Managers arrival and the 7pm serving time.
The main attraction at the buffet table was the Classic Hog Roast, this was a spit roasted pig that had delicious crispy crackling, homemade stuffing and a tasty apple sauce. Alongside this there was perfectly sizzled pulled BBQ jackfruit, grilled vegetable and halloumi skewers, a mixed salad and a mountain of piping hot skin-on potato wedges. Rounding off the buffet was a large basket of soft gluten free rolls.
The guests served themselves using the Hog Roast Croydon wooden bamboo crockery and cutlery, which was taken away at the end of the event by the Catering Managers to be washed and re-used. It was a magical, beautiful evening that was enjoyed by everyone.