While you may well know Hog Roast New Malden as dedicated catering professionals who wow our customers and their guests with tasty, fresh, high-quality food, both locally and further afield, you may not know that we have our own factory where we build our own hog roast machines from scratch, which we sell and hire out. Our trusty stainless steel hog roasters are highly versatile, as you can actually cook so much more with them than just hog roasts, as we designed them to work like conventional ovens, so you can even cook a whole meal inside, like your meat above and the veg and potatoes inside.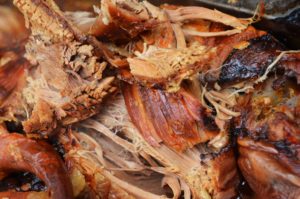 Our Hog Roast New Malden machines are also easily transported and lightweight, which means you don't have to just use them where we drop them off when you hire one – you choose where you want to take yours to cook instead if preferred, and this could even be in the middle of nowhere, as they run on gas bottles (which we provide as part of the hire) and don't need mains electric.
If you're thinking of renting a machine so that you can DIY, even if you've never done so before, you can be certain that with Hog Roast New Malden, you get our expertise and knowledge included, as when one of our experts delivers you a machine to your choice of venue, we walk you through everything you need to know about using our equipment and how to get the best out of it to cook yourself a winner dinner. This is whether you're a professional caterer yourself, who's going to be cooking for your own customers, or if you're a domestic chef cooking at home for friends and family members, for example.
Both delivery and collection are included in the price, and the only extra you might want to pay is for the meat that you'll be cooking, as we can provide this if needed. When Todd hired one of our smaller machines this weekend so that he could cook for his wedding anniversary, he asked us to provide a small pig too, and he was amazed by both the quality of meat and our machine that cooked it beautifully, and we know he'll be renting one again from us soon.