Julia's sister will soon be marrying her fiance so was desperate to find the perfect wedding dress. Julia was also going to her one of her bridesmaids so they also needed to find the perfect matching dresses for all of the bridesmaids that fit with the blue colour theme of the wedding. Julia knew that after trying dresses on and shopping all day, the bride-to-be and her bridesmaids would be hungry for something to eat. However, after spending lots on the dresses, Julia knew that the girls would not want to spend lots on a meal out. In addition, they would all be exhausted and would not want to sit in a restaurant. Therefore, Julia organised to have a small party at her house.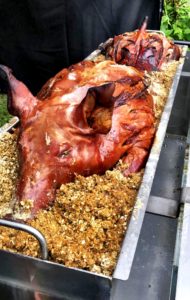 After hearing about the Hog Roast Wembley team from some friends, she decided to use their delivery service. As Julia's mini party was only a small gathering consisting of the bride, her mother, grandma, aunties and her bridesmaids, Julia did not want to the Hog Roast Wembley team to put a whole buffet on for them. In addition, Julia wanted a cosy night inside the house and the Hog Roast team would have to cook outside. Therefore, the Hog Roast team cooked her hog roast in advance and delivered it to the house fresh for Julia and her guests to enjoy.
Julia was very pleased with the food she received from the Hog Roast Wembley team. It was delivered at the exact time that Julia had requested it and the team had ensured that the meat remained fresh and that it was just as tasty as it would have been if the team had cooked it outside her house. All of Julia's guests really enjoyed the food and everything had been cooked to perfection.
If you are worried that your event is too small to host the Hog Roast Wembley team, then the Hog Roast delivery option may be the perfect choice for your event. The team ensured that the standards they set while cooking the Hog Roasts from their stalls at their events are still upheld when they deliver the Hog Roast to your door.