Our phone hasn't stopped ringing since the New Year customers getting in early and booking us for Hog Roast Feltham events for the coming year. We have had calls for Weddings, Christenings, Anniversaries and birthdays as well as a fair few corporate events too. Mid week we catered for a very important client of ours who gives us lots of work, this event was for a luncheon with investors of the company and we were as always honoured to be asked back. We arrived at the building early morning and shown into the boardroom the tables were set out and we set up our machine hoisted the huge pig on it and it began spinning always and cooking nicely. Our staff all turned smart out as usual all began to do their thing some were chopping and preparing the vegetables and others filling the tables with food.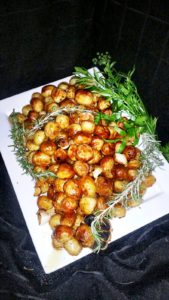 We always prepare everything fresh on site it takes a little effort but makes a huge difference as we like all our Hog Roast Feltham food to be first class. We chopped some potatoes and put them onto roast and added some herbs and spices to the potatoes simple but so delicious. We had everything ship shape as the guests arrived and we began to carve. The guests all watched as our chef sharpened his knives and carved with ease the meat was cut into large perfect slices so tender and moreish and the guests were soon tucking into the food our staff went around and made sure everyone had enough to eat and they were given some fantastic feedback from the guests saying how impressive and delicious the Hog Roast Feltham was.
When the guests had finished eating we cleared away and left the place the way we found it spick and span. And we were approached by a few of the guests to ask if we had cards, as they would like to book us in the future we handed them out and we were no sooner in the van and the guests were already emailing us booking events it never stops and we truly wouldn't have it any other way.